Broadway Musical Time Machine: Looking Back at Sweet Charity
With Sweet Charity returning to the New York stage this fall in a production starring Tony-winner Sutton Foster, this week I will explore the history and makeup of this imperfect musical that somehow manages to delight theatre folk, particularly dancers. What is it about this dated, meandering musical that continues to intrigue directors, choreographers and performers enough to keep returning to it?
Sweet Charity is based on the 1957 Frederico Fellini film Nights of Cabiria about a prostitute with a heart of gold who is in search of real love. When it was adapted as a stage musical, it was decided to tone her profession down by making her a dance hall hostess. Sweet Charity is the story of how this optimistic girl (named Charity), who literally wears her heart on her sleeve (tattoo) as she wends her way through a parade of men who treat her badly. It's hard not to see her as pathetic because of how desperate she seems, but it is also hard not to root for her because she genuinely deserves to be loved.
Sweet Charity has a book by Neil Simon (writing books for musicals has never been his particular strong point), an episodic story where we get to watch Charity put herself through an obstacle course of heartache to find love. It is a testament to Simon's ability to shape loveable characters that he manages to keep us interested, but after a while the plot begins to feel cyclical, like we aren't getting anywhere or that Charity isn't evolving or learning anything new. The character begins to feel pathetic by the end, and it's hard to stay in her corner because of it.
The score of Sweet Charity is a different matter. Cy Coleman (music) and Dorothy Fields (lyrics) conjured a bouquet of songs that evoke whimsy, heartache, humor, and determination. Where the script doesn't feel like it takes us anywhere, the music takes us into the mind of a character whose emotions are traveling at high velocity. Her big numbers "You Should See Yourself", "If My Friend Could See Me Now", and "I'm A Brass Band" explode with vitality and strong character development. The musical's most well-known number "Big Spender" is a cool, detached number for a chorus line of dance hall girls who have become emotionally detached in order to do their jobs. The musical's most effective number, "There's Gotta Be Something Better Than This", is a frenetic, visceral cry for these same ladies who dream of getting out of their ten-cents a dance profession.
Dance is intrinsic to the success of any production of Sweet Charity. This may have something to do with the fact that the original production was conceived, directed and choreographed by Bob Fosse, and that he shaped it to be a vehicle for his muse (and wife), accomplished dancer Gwen Verdon. Fosse made Sweet Charity a dance show, and frankly, the musical just doesn't work without a strong choreographer helping to tell the story, and an amazing dancer in the lead. Fosse used his usual tangle of angled contortions executed by limber, precise dancers, and this is what truly made Sweet Charity an event. In many ways, Sweet Charity is a dance piece that conveys the heart and mind of the title character, but that is occasionally interrupted by the pesky conventions of musical theatre (such as speaking and singing). It is an impressionist work painted in broad strokes of heightened movement. It is a ballet about the heart and a modern dance piece about the mind.
Finally: Charity Hope Valentine is an original. She must be brimming and bubbling over with all three words that make up her name. She must be warm, optimistic, vulnerable, funny, and she has to be able to meet the dancing demands of the show. The original Charity, Gwen Verdon, had all of these ingredients in spades, leaving big shoes to fill for anyone tasked with performing in her shadow after she left her indelible stamp on the role. Does Sutton Foster have what it takes to make the role both her own AND make what is her own work within the context of the show? We know she can dance, but we've known her predominantly as a tap dancer and not a dancer in the style that is typically associated with this show. She has an awkward gangly-way about her that can be endearing and fun. She has a powerful belt that can certainly fill a room. It will be interesting and exciting to see if she can bring together her bag of tricks to make her Charity all that it needs to be. Fortunately, she has a personality that can inevitably make this iconic character believable and accessible, and that may just be the most important ingredient.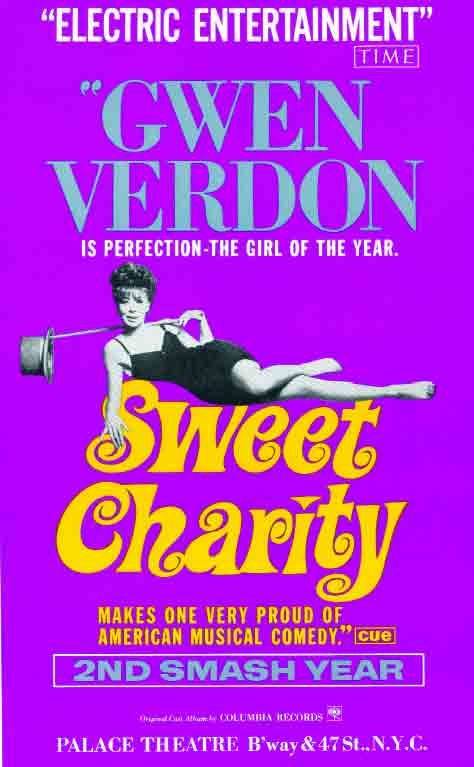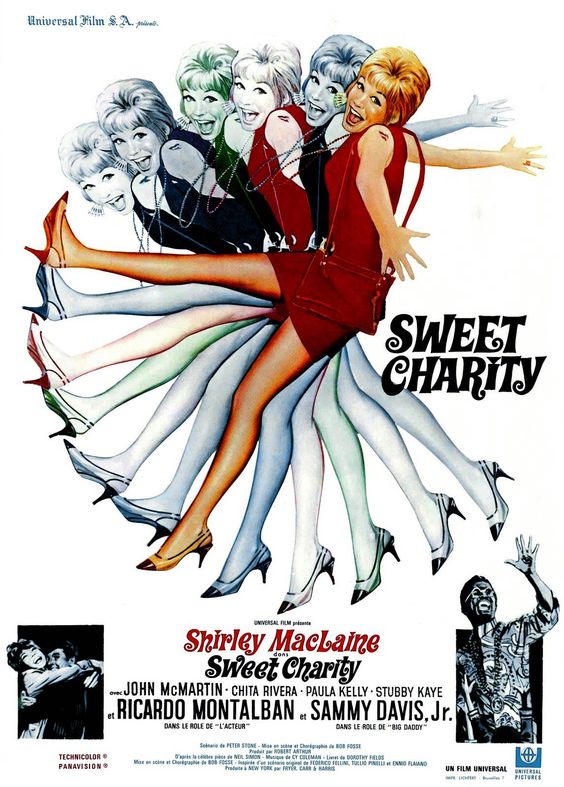 Interesting Facts About Sweet Charity:
Sweet Charity opened on January 29, 1966 at Broadway's Palace Theatre where it ran for 608 performances.
Besides Gwen Verdon, many well-known theatre actresses have played Charity including Chita Rivera, Juliet Prowse, Gretchen Wyler, and Charlotte d'Amboise.
Sweet Charity was nominated for nine Tony Awards in 1966, but it only won one trophy and that was for Best Choreography. Most of that season's awards went to Man of La Mancha and Mame.
There was a popular Broadway revival of Sweet Charity in 1986 that starred Debbie Allen, Bebe Neuwirth, and Michael Rupert. It won four Tony Awards including Best Revival. It ran 369 performances.
A 2005 revival of Sweet Charity, starring Christina Applegate, did not fair as well as the original production or the revival, running 279 performances. It was nominated for three Tony Awards, but didn't win any.
A 1969 film version of Sweet Charity, directed and choreographed by Bob Fosse, starred Shirley MacLaine. Peter Stone adapted Neil Simon's flimsy script for the big screen.